How it started
Name: Dirk Hanel
Hometown: Kalchreuth
Date of birth: 02/03/1975
Best results:
Winner Namibia Speedweek 2004 New German record 40.05 Knots 4th fastest time in the world.
2nd Place Overall World Cup Cabo Verde
A trip to Maui can change your life. Reviewing the past year and a half, it did really change my life. Beeing a passionate windsurfer and working as a carpenter and studying architecure I decided 1998 to spend six months in maui to do what I love to do and play in the ocean. What other place in the world would be better then the northshore of maui.

While standing in Hooikipa on a light wind day Flash Austin was charging in the big waves celbrateing huge jumps with his kite. The interest for this new sport was born in my head and with my last dollars I purchased a kite. Using an old 6´1´´ surfboard I went to Sprecks and did my first tries with the kite on the water. Happening to know how to fly a kite from my childhood I did not have a hard time to get going. Well using the kite to do jumps and go up and down the coast , sometimes swimming home and walking back up wind at the beach was the daily procedure.
Well after returning from Maui I introduced the kiteboarding to my friends at the windsurfing club WHT in the netherlands and started doing demonstrations at several windsurfing competions in Germany. Beeing hired as a stunt double for the Bavaria films was the my first step of making actually some money with this new loved sport. Soon I participated at the first kitesurfing events, making new contact to other international kiteboarders.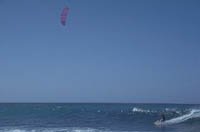 As the 2000 year started I began to pick up sponsors that made it easier to participate at events all over the world such as Cabo Verde, Dominican Repulic, Marocco, Germany, USA, Switzerland, Netherlands, England and New Zealand. Thankx to sponsors and kitesurfing mags that I was able to write articles and provide pictures for, I started traveling the globe. Getting to know more and more people and seeing places that I would have never dreamed off. I still have more crazy ideas on mind and will keep on traveling to show and life our new sport. Just check out what all happened and is going to in the future on the following pages. I will try to keep them up dated as I go along. Drop in a note if you have any qestion and please feel free to recommend the page to other people.
Cut deep fly high…
Dirk
Categorized as Stories